The Age of Loneliness
Steve Taylor
Steve Taylor is professor of leadership and creativity at the WPI Foisie School of Business. His research is focused in two areas: organizational aesthetics and reflective practice. The former applies art-based scholarship and practice to management and organizations. The latter focuses on the ability to analyze our own actions and learn how to be more effective, ethical, and artful as managers and leaders.

Goffman (1959) taught us how we could understand organizations as theatre. In his academic work Steve Taylor has been more interested in how plays are used within organizations (e.g. Nissley, Taylor, & Houden, 2004; Steven S. Taylor, 2000, 2003, 2008) as an example of a much larger movement of the use of arts-based methods within organizations (cf Steven S. Taylor & Ladkin, 2009).

Alongside his academic work, Steve have written plays as a different way of thinking – even theorizing (Steven S. Taylor, 2000) – about organizations, believing that artistic understanding embraces its inherent subjectivity and is well suited for making meaning in complex phenomena such as organizations.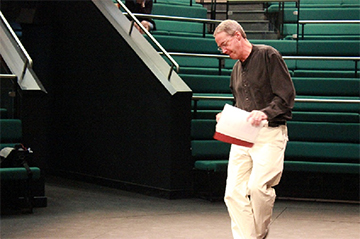 Steve has debuted a play at AoMO conferences since 2002 and this year is no different! 2016 sees the inaugural performance of The Age of Loneliness. In The Age of Loneliness, June, a young playwright struggles with what comes after her success with her play, The Adventures of Yahweh and Kapital (seen previously in, The Invisible Foot).

Can Yahweh and Kapital get along, what sort of relationship will they have, can they survive in a post-growth world, should she even keep writing the play? If this truly is the end of the neo-liberal consensus, what comes next? Can an omnipotent, immortal die?

Steve Taylor's Play at the Art of Management and Organization Conferences
The Age of Loneliness. 2016. Bled, Slovenia.
Through the Reading Glasses. 2014. Copenhagen, Denmark.
The Invisible Foot. 2012. York, England.
Cow Going Abstract. 2008. Banff, Canada.
Blasphemy & Doubt. 2006. Krakow, Poland.
Ties That Bind. 2004. Paris, France.
Soft Targets. 2002. London, England.